Bluechip is a highly-regarded online gambling platform offering a diverse range of betting and gambling options. With over 6,000 slots, live games, and sports events to bet on, customers have access to a plethora of betting opportunities. As a globally popular gambling and betting website, Bluechip features a wide range of sports to bet on, including Football, Tennis, ESports, and the ever-popular sport of Cricket. Here, we will explore everything you need to know about betting on Cricket at Bluechip!

Cricket Tournaments Available for Betting at Bluechip
Naturally, betting on Cricket is also very popular. At Bluechip, we offer our customers the opportunity to bet on a wide range of Cricket events from all over the world, including the most prestigious Cricket championships and exciting eCricket matches. Let's take a closer look at the Cricket events available for betting at Bluechip.
| | |
| --- | --- |
| Tournament | Description |
| Indian Premier League (IPL) | A professional Cricket championship founded in 2008 and considered one of the most famous and popular tournaments worldwide. |
| T20 World Cup | An international Cricket championship administrated by the International Cricket Council (ICC). The tournament started in 2007 and has 20 teams competing for the T20 World Champion status. |
| Super Smash Championship | A top-tier Cricket tournament held in New Zealand and administrated by the Cricket Council of New Zealand. The competition is held in Twenty20 format since 2005 and is one of the most popular Cricket championships with famous sponsors. |
| Big Bash League | A professional Cricket league originating from Australia in 2011. It is considered one of the most-known Cricket leagues worldwide with a large audience and fans. The league is held in Twenty20 format, and 8 teams compete with each other. |
| eCricket | A computer simulation of games between real sports teams that has become very popular in the form of ESports. eCricket is a popular type of this kind of ESports, and on the Bluechip website, you can find these electronic tournaments, watch them, and place bets on them. |
Live Betting on Cricket at Bluechip
The popularity of live betting has skyrocketed in recent years. This type of betting allows players to place wagers during a match, with odds constantly changing in response to events on the field.
At Bluechip, we offer numerous opportunities for live betting on Cricket. While the odds can be incredibly high at times, they can also be unpredictable and volatile. It's crucial for bettors to keep an eye on the match and monitor the odds closely. With Bluechip, you'll have access to real-time odds and the ability to place bets on live Cricket events quickly and easily.
Bluechip's Mobile Betting App for Cricket
Bluechip is a top-tier gambling company and we're proud to offer our customers a mobile application. With the help of our talented development team and the latest technologies, we've created one of the best mobile gambling apps in the industry.
The app's functionality is exceptional and it has all the features of our website. This is especially important because many customers prefer to bet on-the-go and they should have the same opportunities as desktop users. Our mobile betting app is the perfect solution for those who prefer to use smartphones for betting.
The app is free to download and available on both IOS and Android platforms. For Indian users, it is also available in Hindi. Our mobile application is perfect for Cricket betting as well! To download the app, simply visit our official website, go to the "Mobile App" section and choose your platform.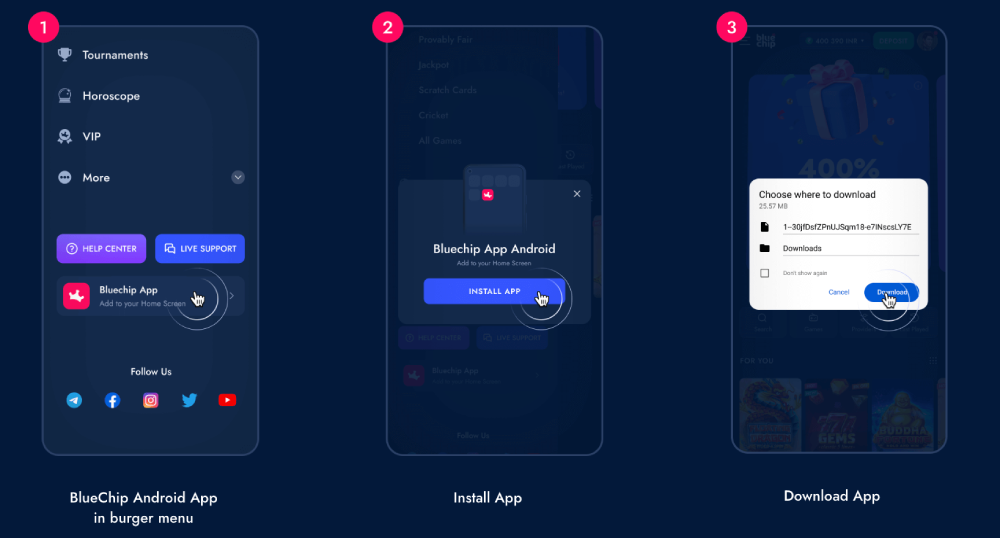 Factors to Consider When Placing Cricket Bets
Placing bets on cricket is a challenging task that requires careful analysis and research. Successful bettors know that structured and well-informed bets are more likely to be profitable than those placed without any analysis. To increase your chances of placing winning bets, it's essential to consider several factors, including past results, team members, and statistics.
Past results can provide valuable insights into a team's performance, making it a crucial factor to analyze before placing a bet. Similarly, checking the current squad members and their individual skills can help you determine a team's overall ability.
Statistics from previous matches are also a valuable source of information that can help you identify the strengths and weaknesses of a team. You can analyze player performance to identify the best players in a match and assess a team's overall form.
Improving your ability to analyze these factors and draw informed conclusions will help you place more profitable bets on cricket.
Understanding Different Types of Odds for Cricket Betting at Bluechip
Bluechip is a renowned betting company that offers a wide range of betting odds for its customers. Our odds are some of the highest available on the market, and they are particularly attractive for Cricket betting. We understand that our customers have different preferences, and that is why we offer several types of odds to choose from:
| | |
| --- | --- |
| Type of Odds | Description |
| European | This is the most popular type of odds used around the world. It shows the bet multiplier in case of winning. |
| American | These odds are suitable for both beginners and professionals. They show how much you will earn if you win. |
| Fractional | This type of odds is commonly used by professionals. They are usually represented in 3/1, 2/1 format. |
| Hong Kong | These odds typically have "+" and "-" signs before them. They show the relationship between your stake and profit. |
| Indonesian | These odds are similar to American odds, but they are divided by 100. |
| Malaysian | These odds are similar to Hong Kong odds, and they also show the relationship between stake and profit. |
By understanding the differences between each type of odds, you can choose the one that best suits your needs and preferences. With Bluechip, you have access to all these different odds, so you can make the best possible bets on your favorite sports, including Cricket.
Conclusion
In conclusion, Bluechip is a great platform for those who love to bet on Cricket. With a wide range of Cricket tournaments available, including the Indian Premier League, the T20 World Cup, and eCricket, Bluechip offers a diverse selection of betting options. Additionally, the popularity of live betting has increased dramatically, and Bluechip provides its customers with numerous opportunities to place bets on live Cricket events with real-time odds. Bluechip's mobile betting app is another great feature that allows users to place bets on the go, and it is available in both IOS and Android platforms. Finally, to increase your chances of winning, it's essential to consider past results, team members, and statistics. With different types of odds available, customers can choose the type of odds that suit their preferences best. Overall, Bluechip provides a user-friendly platform for betting on Cricket with several features and options that are sure to satisfy cricket fans.